Go to BMC step-by-step guide

Go to BMC step-by-step guide
A SUPERIOR REGENERATIVE TREATMENT
The bone marrow concentrate (BMC) is a high viability cell concentrate rich in adult stem cells of different lineages (mesenchymal, hematopoietic and endothelial) as well as growth factors from platelets, all involved in natural healing process.
Osteochondral lesions and osteoarthritis
Avascular osteonecrosis
Pseudo-arthrosis (non-union) and fractures
Discogenic back pain
Spinal fusion (arthrodesis)
Tendinopathies
BIBLIOGRAPHY
---
1. Centeno CJ, Al-Sayegh H, Bashir J, Goodyear S, Freeman MD. A dose response analysis of a specific bone marrow concentrate treatment protocol for knee osteoarthritis. BMC Musculoskelet Disord. 2015 Sep 18;16:258
2. Ma Y, Wang T, Liao J, Gu H, Lin X, Jiang Q, Bulsara MK, Zheng M, Zheng Q. Efficacy of autologous bone marrow buffy coat grafting combined with core decompression in patients with avascular necrosis of femoral head: a prospective, double-blinded, randomized, controlled study. Stem Cell Res Ther. 2014 Oct 14;5(5):115.
3. Hernigou P, Guissou I, Homma Y, Poignard A, Chevallier N, Rouard H, Flouzat Lachaniette CH. Percutaneous injection of bone marrow mesenchymal stem cells for ankle non-unions decreases complications in patients with diabetes. Int Orthop. 2015 Aug;39(8):1639-43
4. Pettine KA, Suzuki RK, Sand TT, Murphy MB. Autologous bone marrow concentrate intradiscal injection for the treatment of degenerative disc disease with three-year follow-up. Int Orthop. 2017 Oct;41(10):2097-2103.
5. Hart R, Komzák M, Okál F, Náhlík D, Jajtner P, Puskeiler M. Allograft alone versus allograft with bone marrow concentrate for the healing of the instrumented posterolateral lumbar fusion. Spine J. 2014 Jul 1;14(7):1318-24.
6. Hernigou P, Flouzat Lachaniette CH, Delambre J, Zilber S, Duffiet P, Chevallier N, Rouard H. Biologic augmentation of rotator cuff repair with mesenchymal stem cells during arthroscopy improves healing and prevents further tears: a case-controlled study. Int Orthop. 2014 Sep;38(9):1811-8.
7. Kandarakov O, Belyavsky A, Semenova E. Bone Marrow Niches of Hematopoietic Stem and Progenitor Cells. Int J Mol Sci. 2022 Apr 18;23(8):4462
Hy-tissue BMC is an optimized Point-of-Care system for bone marrow (BM) processing based on a differential centrifugation that requires minimal manipulation.
Hy-tissue BMC is a medical device that produces bone marrow concentrate for musculoskeletal applications.
CELL FRIENDLY
PROTECTIVE SURFACE
Devices made of anti-electrostatic medical grade polymer with a nano-polished and coated surface, to prevent cells and platelets adhesion and increase their recovery.
MOTION THAT CARES
Exclusive soft centrifugation technology that optimizes the platelets and cells separation and concentration, preserving their integrity and viability.
PRECISE SELECTION
Laminar flow selection system that allows precise selection of the different fractions directly from the tube to the application syringe.
UNIQUE BIOLOGICAL FEATURES
1. Data from the Technical Report of Hy-tissue BMC characterization; Laboratorie de Culture et Thérapie Cellulaire, Marseille (FR), 2015. Mean values ± SD. 2. Hegde V, et al. A prospective comparison of 3 approved systems for autologous bone marrow concentration demonstrated non-equivalency in progenitor cell number and concentration. J Orthop Trauma. 2014 Oct;28(10):591-8.
LEGEND: BM: Bone Marrow. BMC: Bone Marrow Concentrate. CFU-F: Fibroblast Colony Forming Units. EPCs: Endothelial Progenitor Cells. HPCs: Hematopoietic Progenitor Cells. MSCs (CFU-F): Mesenchymal Stem Cells quantified as Fibroblast Colony Forming Units. TNCs: Total Nucleated Cells.
THE QUALITY OF THE PROCESS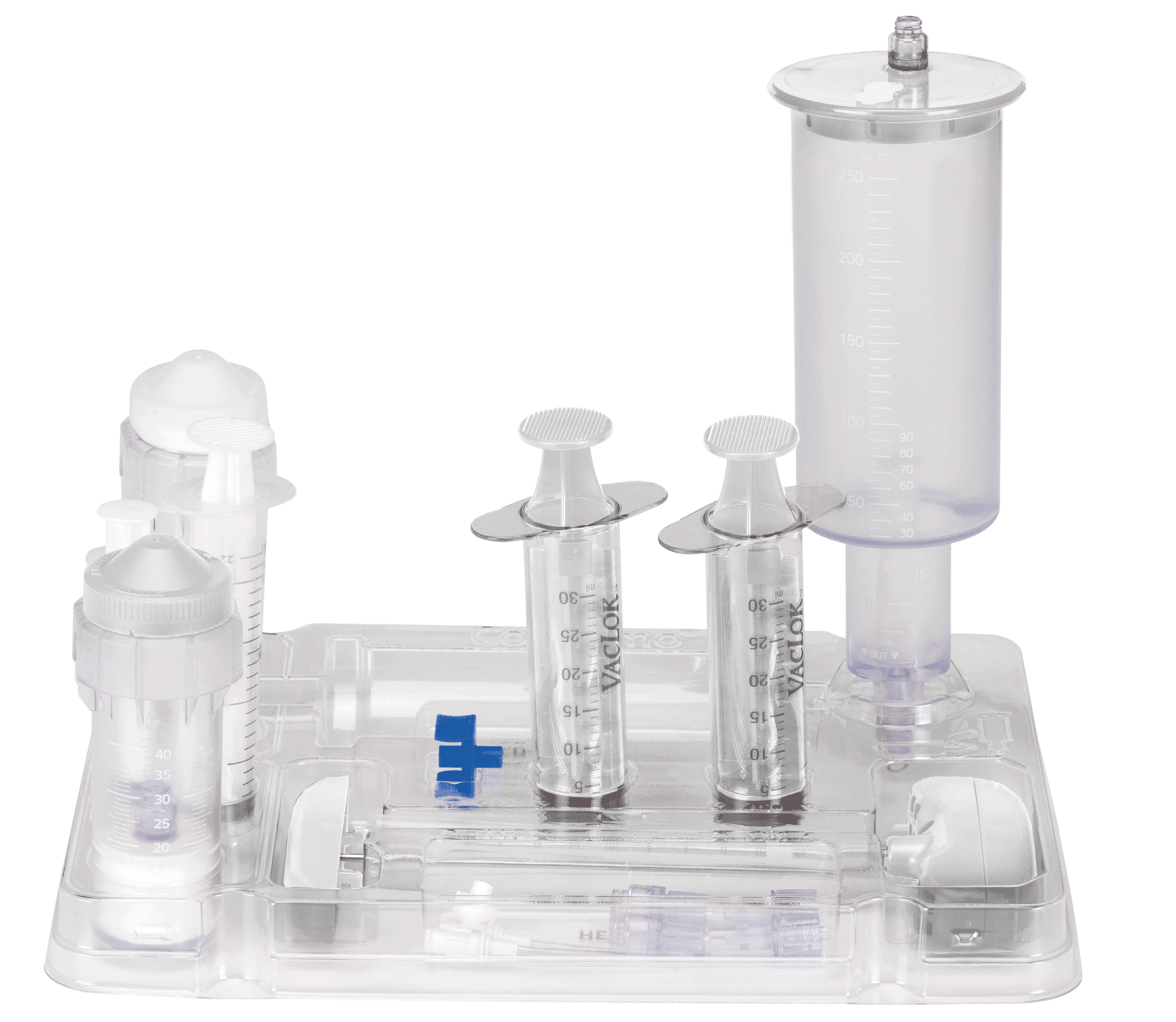 1
2
3
4